Update to Position Paper Series on COVID-19 Consequences and Challenges: A Look at April & May 2021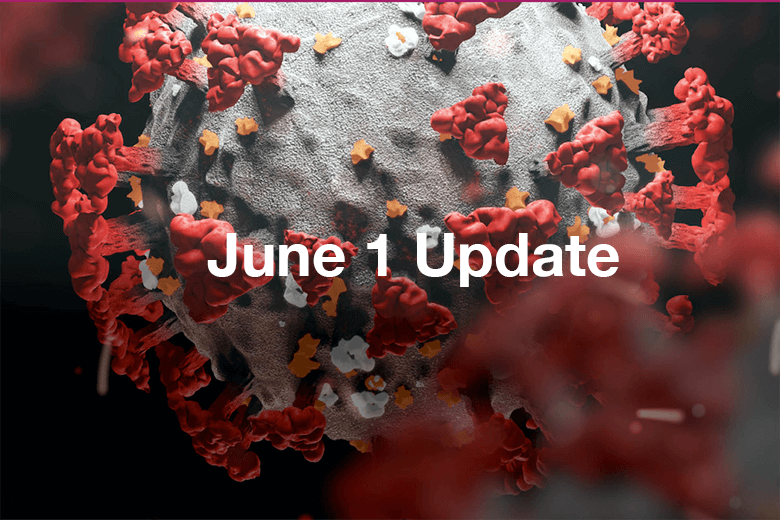 The June 1 update on COVID-19 challenges and consequences—the latest in the position paper series examining the impact of COVID-19 on the US population and health care providers—is now available for download. This update, "COVID-19 Challenges and Consequences: Is the End Really in Sight?" focuses on the progress that has been made since the end of March 2021, and also covers recent reports that may present challenges to the health care community.
One highly promising development is the recent dramatic reduction in COVID-19 cases and deaths. By the end of May, the average number of new cases per day was just 8.6% of what it had been on January 8, 2021. This is good news not only in terms of reducing future spread of infection: a steep drop in cases has contributed to substantially fewer COVID-related deaths. Earlier diagnosis and improved treatment for those who do become sick are also responsible for the decline in COVID-related mortality.
New concerns include reports of breakthrough infections after vaccination, increased rates of adverse events in individuals who had previously had COVID-19 (ie, antibodies to COVID-19) before vaccination, cases of myocarditis (heart inflammation) in some young persons in their teens and early twenties after they received the Pfizer and Moderna vaccines, and unknowns regarding the timing and effectiveness of proposed booster vaccines. Challenges surrounding vaccine follow-through and vaccine hesitancy are also discussed, as approximately 60% of the US population was not fully vaccinated as of May 28.
This position paper update continues to explore ways to engender public trust in health care professionals and strengthen health profession response during the recovery from the pandemic. Throughout the pandemic, oral health care providers have been actively safeguarding public health by consistently delivering safe dental care. Oral health care professionals are advised to stay informed about oral health conditions that have been found to be associated with COVID-19, such as mouth lesions and residual damage in the oral cavity. Oral health care professionals are also asked to consider ways in which health inequity and barriers to health care can be eliminated. Additionally, in March, dentists and dental students were authorized to administer COVID-19 vaccines, providing a potential opportunity for dental clinics to collaborate with pharmacies to minimize dosage wastage. Other calls to action for oral health care professionals include collaboration with industry to develop strategies for maintaining stockpiles of PPE, and communicating with patients to help dispel misinformation about COVID-19.
The update is authored by Dr. E. Dianne Rekow, Professor Emerita, Fellow, and former Executive Dean of King's College London.
Download your copy of the position paper here: Click Here
About the Santa Fe Group
The Santa Fe Group is a 501(c)(3) action-oriented think tank focused on improving lives through oral health. Founded 26 years ago, the Group is comprised of interprofessional, highly accomplished individuals including dentists, physicians, nurses, public health advocates, business leaders, and scholars. Together, these stakeholders have worked to impact critical issues such as oral cancer, dental education reform, children's oral health, improved primary care access, linking medical and dental health systems, and most recently, expanding oral healthcare for seniors. Among these efforts, the Group has produced prominent national salons, position papers, and editorials; and has engaged directly with federal entities including the Centers for Medicare and Medicaid Services (CMS), the National Institute of Dental and Craniofacial Research (NIDCR), and the Congressional Budget Office. Learn more at
santafegroup.org