Fotinos S. Panagakos, D.M.D., Ph.D. (Secretary)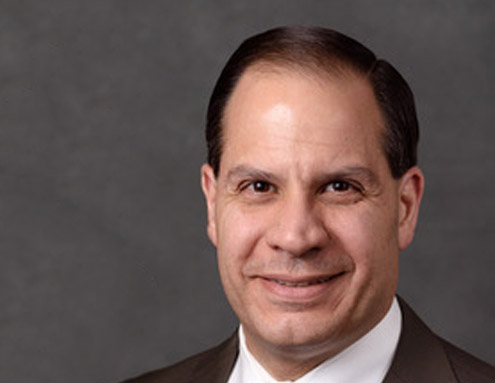 Dr. Panagakos received his DMD from UMDNJ-New Jersey Dental School (now Rutgers University School of Dental Medicine) and his PhD in Biochemistry and Molecular Biology from UMDNJ-Graduate School of Biomedical Sciences (now the Rutgers University Graduate School of Biomedical Sciences) in 1992. In 1999, he received his Master's in Education from Seton Hall University and in 2007 he received his Master's in Business Administration from Lehigh University.
Dr. Panagakos was commissioned out of the Lehigh University ROTC program in 1986 as a Second Lieutenant, and served for 13 years in the NJ Army National Guard and Army Reserve. He held positions as a medical platoon leader, Squadron administrative officer (S1), Medical Company commander and reserve dental office in the 82nd Airborne Division, leaving service as a Major in 1999.
Dr. Panagakos served for 14 years as a full time faculty member at New Jersey Dental School, serving in a number of administrative positions, including Group Practice Administrator, Director of Environmental Safety and Associate Dean of Academic Affairs. During this time, he also maintained a private dental practice in Westfield and Newark, NJ.
In June, 2005, Dr. Panagakos joined the Colgate Palmolive Oral Care Clinical Research Department as an Associate Director. In January, 2006, Dr. Panagakos was promoted to Director of Professional Relations and Scientific Affairs – North America. In April 2009, Dr. Panagakos was appointed Director of Clinical Research Relations and Strategy within the Research and Development division of Colgate-Palmolive Co. In November, 2012, he was promoted to Global Director of Scientific Affairs and Research Relations – Oral Care.
In November, 2017, Dr. Panagakos joined Geistlich Pharma, North America as Vice President, Scientific and Clinical Affairs, based in Princeton, NJ. He led the U.S. clinical science team activities related to the development of clinical studies, publications, and continuing to strengthen relationships with regional and national professional associations aligned with regenerative dentistry.
Dr. Panagakos joined the West Virginia University School of Dentistry in August 2018, as the Associate Dean for Research. In January 2019, he was appointed Vice Dean for Administration and Research. In May, 2020, he was appointed Interim Dean of the school.
Dr. Panagakos is the co-author of over 75 peer-reviewed scientific research articles and is the co-editor of three dental science textbooks. His areas of interest include the role of inflammation in oral and overall health, and the impact of nutrition on oral health and wellness.
In his spare time, Dr. Panagakos is an avid runner, having completed 55 marathons since 2012. He enjoys running races at all distances, and is currently in the process of completing a marathon in every US state.