Kathryn A. Atchison, D.D.S., M.P.H.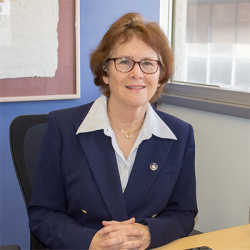 Kathryn A. Atchison, D.D.S., M.P.H., holds a professor appointment in the UCLA School of Dentistry's Division of Public Health and Community Dentistry and is jointly appointed in the UCLA Jonathan and Karin Fielding School of Public Health, Department of Health Policy Management.
Dr. Atchison served as the Vice Provost, New Collaborative Initiatives for UCLA from 2011 to 2016 and as Vice Provost Intellectual Property and Industry Relations from 2005 to 2011. From 1998 to 2004 she served as the School of Dentistry's Associate Dean for Research and Knowledge Management and was the School of Dentistry's Residency Director for Geriatric Dentistry from 2000 to 2006. Dr. Atchison is the recipient of the International Association for Dental Research's 2008 Distinguished Scientist Award for Behavioral Sciences, Epidemiology and Health Services Research.
During 2014-15, Dr. Atchison was on special assignment to the Office of the Director of the National Institute of Dental and Craniofacial Research (NIDCR) in the National Institutes of Health where she helped develop strategies aimed at strengthening NIDCR's ability to translate research discoveries into new tools and treatment. She is a fellow of the American Association for Dental Research.
In 2016, Dr. Atchison was invited to prepare a Commissioned Paper for the National Academy of Science, Engineering and Medicine Roundtable on Health Literacy entitled "Integrating Oral Health, Primary Care, and Health Literacy: Considerations for Health Professional Practice, Education and Policy" and is currently Section Editor of the Section Oral Health Integration, Workforce, and Practice of the upcoming 2020 Surgeon General's Report on Oral Health.