Santa Fe Group Coordinates Testing for Tomorrow [T4T] Collaborative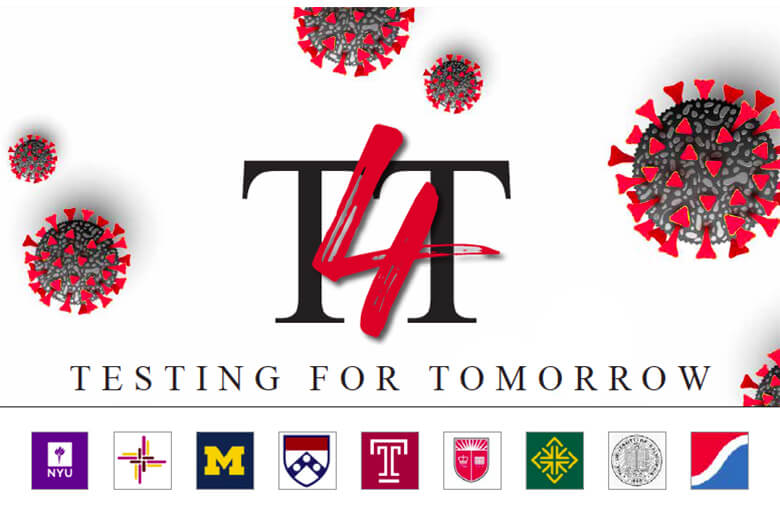 T4T Education & Industry leaders seek to Identify Best Point of Care Test
The Santa Fe Group is proud to coordinate the Testing for Tomorrow [T4T] Collaborative and announce its first publication, Perspectives on Meeting the COVID-19 Testing Challenge: A Dental School Collaborative in the Journal of Dental Education.The paper, amongst other findings, is a call to action to meet the urgent need for a best point of care test with real-time results in any setting in the battle against this deadly virus.
About the T4T Collaborative
The T4T Collaborative consists of the Santa Fe Group; the University of California at San Francisco; the University of Michigan; Temple University; the University of Pennsylvania; Rutgers University; New York University;a number of third-party consultants, and Henry Schein, Inc. the world's leading solutions company for health care professionals.
Formed in the early days of the pandemic, when private dental offices and most dental schools discovered they could not test their patients for the virus that causes COVID19, the T4T Collaborative pooled their efforts to evaluate which SARS-CoV-2 tests are appropriate for use in clinical practice with a primary emphasis on private practice Point of Care (POC) tests. T4T was also instrumental in recruiting partners (including community-based entities) to develop COVID-19 evaluation protocols that would greatly benefit first responders, frontline healthcare professionals and essential workers.
About The T4T Collaborative's Initiatives
All the partners in the T4T Collaborative have learned an enormous amount during this process resulting in the group producing several strong initiatives such as submitting a request to the Office of the Surgeon General for dentists to get access to these SAR-CoV-2 tests, and for them to be reimbursed like other health professionals; presenting testing protocols in a webinar sponsored by insurance giant AON attended by representatives of 700 major corporations; and presentations by T4T members in a webinar sponsored by the Organization for Safety, Asepsis and Prevention.
No single organization could have achieved what the T4T Collaborative accomplished. Practices and their patients stand to benefit greatly from their work.The Santa Fe Group is proud to have coordinated the efforts of these six prestigious schools and industry leader Henry Schein, Inc.
About the Santa Fe Group
The Santa Fe Group is a 501(c) (3), action-oriented think tank with a passion to improve lives through oral health. Since its inception 25 years ago, the Santa Fe Group has been instrumental as a neutral convener, communicator, connector and catalyst to move the needle on critical issues such as oral cancer, dental education reform, children's oral health, improved primary care access, the importance of linking medical and dental health systems, and most recently, expanding oral healthcare for our nation's seniors. To learn more, please visit: https://santafegroup.org/& @SantaFeGroupOrg.