Can the Integration of Dental and General Healthcare Reduce the Prevalence of Periodontitis? EIU Report on the Societal and Economic Burden of Periodontitis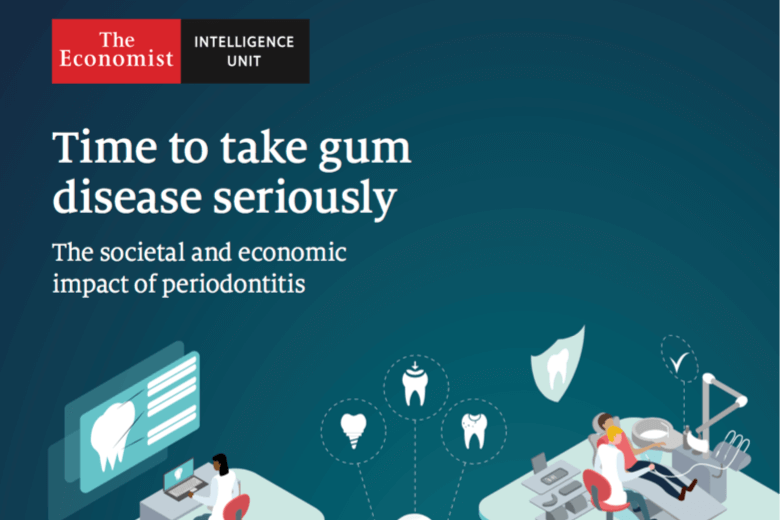 On June 14, the Economist Intelligence Unit (EIU) published a report commissioned by the European Federation of Periodontology that provides a cost analysis of periodontitis in six Western European countries. The report, "Time to Take Gum Disease Seriously," also considers the potential benefits of integrating dental and general healthcare systems, the socioeconomic risk factors for gum disease, and the importance of preventive oral healthcare, particularly in terms of reducing the societal and economic burden of periodontitis.
The report notes that periodontitis is the sixth-most prevalent health condition worldwide, accounting for more years lost to disability than any other condition. Closely associated with diabetes and cardiovascular disease, periodontitis has been linked to more than 50 other noncommunicable diseases, in part because of shared underlying inflammatory pathways and risk factors. "Bidirectional links" between periodontitis and certain diseases have also been demonstrated: for example, people with this gum disease are at higher risk for diabetes, while conversely, people with diabetes are also at higher risk for periodontitis.
According to the EIU report, these disease associations and comorbidities highlight the potential value of integrated dental and healthcare systems. The use of clinical treatment teams that integrate general health check-ups with oral health examinations is one possible approach to integrated care. Using this system, the EIU suggests, the number of visits that patients might need to make to different practitioners could be reduced. Shared information between oral health providers and medical practitioners¾such as through linking oral health and general health electronic medical records¾is another possible means of ensuring that all practitioners are "on the same page" when it comes to the care of an individual patient.
Periodontitis is a largely preventable disease, and self-care at home is the mainstay of gum disease prevention. Yet, as the report points out, the prevalence of periodontitis in Western Europe has remained virtually unchanged over the past 25 years, with people of low socioeconomic status having especially high rates of the disease. According to the results of the EIU cost analysis, in which four modelled management scenarios were compared for return-on-investment, prevention is the most cost-effective means of addressing the economic burden of periodontitis. The report proposes that focused efforts to promote preventive oral healthcare are needed- such as public health campaigns, education in community settings such as schools, and, of course, regular check-ups with a dental care provider. (The report provides a brief review of some of these interventions, but except for diagnosis of periodontitis by a dental practitioner, the cost-effectiveness of these particular approaches is not reported as part of the cost analysis.) The authors of the EIU report also believe that policy measures to address dental care costs should be reviewed.
Download Position Paper – Time to Take Gum Disease Seriously:
https://eiuperspectives.economist.com/healthcare/time-take-gum-disease-seriously-societal-and-economic-impact-periodontitis