New ADEA Policy Research Series Issue 5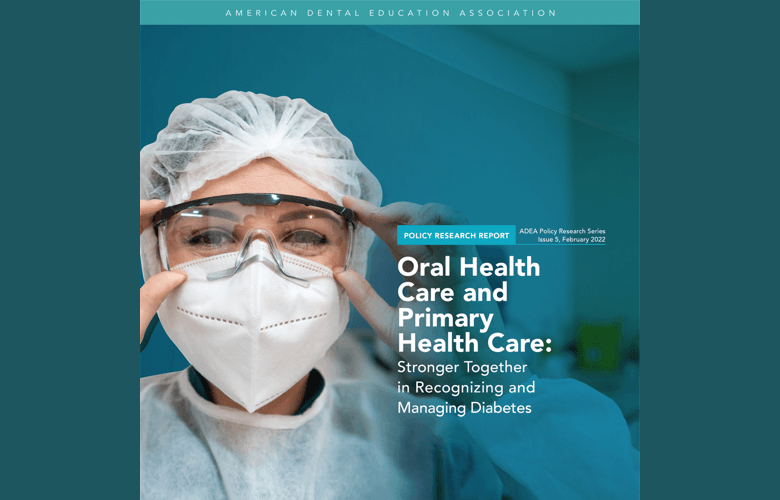 The American Dental Association (ADEA) has released their most recent Policy Research Series Report, "Oral Health Care and Primary Health Care: Stronger Together in Recognizing and Managing Diabetes."
A growing body of evidence supports a strong link between oral health and overall health. Known as the oral-systemic link, the connection between oral health and systemic health has also cast a spotlight on the role of oral disease in contributing to poor overall health. According to an increasing number of studies, oral health diseases—particularly periodontitis—are associated with a variety of serious, potentially life-threatening systemic diseases. Chief among these is diabetes, one of the leading causes of death in the United States.
Periodontal disease has been reported to complicate the management of diabetes and metabolic control, while diabetes in turn is an established risk factor for periodontal disease. A coordinated approach to the management of both diabetes and periodontitis is therefore of paramount importance to achieve optimal health in patients with these diseases.
The need for the coordinated management of systemic and oral diseases has helped give rise to the integration of oral health care and primary health care. Efforts to integrate oral and general health care have also been furthered by a growing recognition that the burden of chronic diseases can be mitigated by a movement toward whole body health. In this light, oral and primary health care have been working to develop means of collaboration—such as providing mutually supportive tools—for the integration of care. The 2022 American Diabetes Association's Standards of Care guidelines currently reinforce the need to screen for diabetes in the dental setting, while the American Academy of Periodontology has similarly included HbA1c readings as a criterion for staging periodontal disease.
This research report discusses the importance of dental education in preparing future oral health care providers with the training necessary to recognize the oral-systemic link, and thus to contribute to the integrated care needs of all patients.
For the full report, please click here.